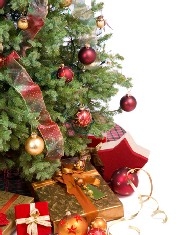 Take the time to store your Christmas decorations properly
Every year on the day after Thanksgiving, I pull out the same cardboard boxes full of ornaments, candles, wreaths, and other Christmas decorations. Every year on New Year's Day, I put those same decorations away in the same cardboard boxes, generously patched with duct tape. This year, I'm determined to find a better way of storing Christmas decorations.
Ornaments
It used to be that our best bet for storing Christmas tree ornaments without breaking them was to wrap each ornament individually in newspaper or tissue paper. With today's huge variety of storage organizers, however, that's no longer the case. 
There are specially made Christmas plastic storage containers with an individual compartment for each ornament, wreath cases and tree bins. Use one or two compartments for storing the ornament hooks. These containers then conveniently stack one on top of another for compact storage.
~
Wreaths
For storing your wreaths, you can use a large, plastic storage container. Special circular containers are available to store wreaths, but if you have several wreaths of different sizes, using those could get fairly expensive. 
Instead, purchase a rectangular container that is wider than your largest wreath is wide. You can then stack your wreaths, largest to smallest, with a sheet of bubble wrap or crumpled newspaper in between each wreath.
Garlands and lights
It can be a huge pain to have to untangle garlands and Christmas lights every year. This year, when you take your decorations down, wrap your garlands and lights around paper towel rolls. These can then be laid flat in a sweater-sized plastic storage container.
Wrapping paper, gift bags, and other wrapping supplies
For storing wrapping paper, a couple of huge, flat boxes work great. I use one that contained a car track set one of my sons received for Christmas. 
If you don't have access to any of this type of box, you can purchase a plastic wrapping paper storage container. Shoeboxes, or plastic shoebox-sized containers, are perfect for ribbon, bows, tape, and scissors. Then when it's time to wrap gifts, you can grab everything at one time.
Candles, snow globes, and figurines
Most snow globes and figurines come in their own boxes, often with a Styrofoam shell in which to store them safely. Keep these boxes, because you can then stack them neatly in a larger box for storage. For the candles and figurines that don't have their own box, purchase some bubble wrap. 
When you take down your Christmas decorations, wrap each item in bubble wrap and lay it in a storage container. Don't use huge containers for this, because they will quickly become heavy when filled with decorations.
Storing Christmas decorations doesn't have to be difficult. If you take the time to store them away properly after Christmas, it will be much easier to decorate next year.