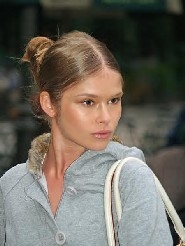 Sick and rude: the latest women's urban styles of clothing rock the house.
Make fashion not war
Women's urban clothing can be a reflection of the will to fight for success and a higher standard of living. Social trends reflect the mood of the country and occurrences happening in other parts of the world. One of today's hottest urban clothing styles combines rough-looking camouflage print pants with body-skimming black, green or tan long-sleeved tees.
Kick up the fashion hype with a great pair of boots
Boots are essential for those who want to wear women's urban clothing with flair and a nonchalance that indicates a sense of security in one's life and in one's fashion choices. High boots with a high heel go well with those stunning tight jeans. But this year, the boots don't always have to be black. Fashionable high, mid-calf or ankle-height boots are an integral part of the urban wardrobe.
Let it drip with faux jewels or semi-precious stones
Women's tops and pants, skirts and hats often are accented with inset stones. A pair of jeans with the side seams highlighted with studs or inset rhinestones makes a fashion statement for day or evening. Want more? The look can be further enhanced with swirls of embroidered accents. The use of stones and metallic thread gives a garment the appearance of richness, sometimes without too much additional cost
Top it all with a great hat or scarf
Years ago, hats were worn mostly by the ladies who lined the first few pews at church on Sunday morning. Hats were complicated accessories whose presence was mandatory in church or at weddings and funerals. The hats sometimes were tiny little constructions with a wispy veil. Other times, they were huge brimmed affairs adorned with fake flowers and feathers from ostriches, peacocks or pheasants. (A note…Reports of women going airborne in a stiff breeze remain unproven!)
What is true is that today's urban fashions enable freedom of hat. A lot depends upon a woman's destination. Going to a club? Choose a soft, slouchy hat that frames the face. Going to the mall? Consider a hat with a brim whose sides can be folded up and secured with a decorative pin. Going on a hot date? Wear a hat that's easy to fling off when it comes time for a midnight kiss. Women's urban clothing styles reflect a free and easy lifestyle — and a woman with the confidence to rule her world.